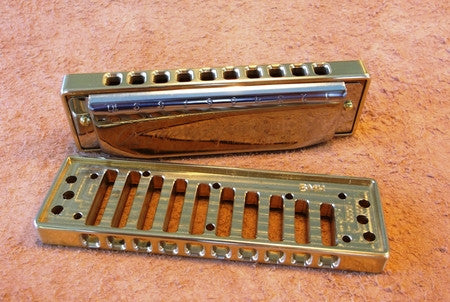 Special 20 or Rocket Brass Comb
Our Special 20 combs are CNC Milled Recessed Combs. They are designed to fit both the traditional Special 20 which has been a mainstay of the Hohner line since the 1970's and the brand new Hohner Rocket that was introduced in 2014. Our combs are ultra-smooth with rounded corners and a mouthpiece that is exceptionally comfortable to play. CNC Milling is extremely precise delivering a flat surface on which to mount your reed plates. The result is an airtight comb that elevates the performance of your harps.
Blue Moon Brass Combs are CNC Milled from solid Architectural Brass. They are then flat sanded, polished and buffed to a brilliant shine. A harmonica built with one of these combs is indeed a very solid instrument. We don't make a lot of claims about how comb material affects the tone of a harmonica but there is definitely something special about a brass combed harmonica. "Louder", "Brighter" and "Richer" are the words most often used to describe them. Brass, of course, is much heavier than Wood, Acrylic or Solid Surface and it gives a harmonica a very solid feel.
In the video below, JD Taylor reviews the Brass Special 20 Comb at about the 4 minute mark.
Each Special 20/Rocket comb will include a small threaded rod with two threaded cylinders.  You can use this hardware to build a brace to support the covers on your completed harp.  The cover brace is an optional feature.  To use it, simply imsert the threaded rod through the hole in the rear center of the comb and attach one of the threaded cylinders to the top and bottom of the comb.
Please note that this listing is for the comb only. Any harmonicas pictured are for illustrative purposes only and are not included. If you are interested in purchasing a complete harmonica with one of our custom combs, please look under the Harmonicas section of this website.
---
We Also Recommend
---