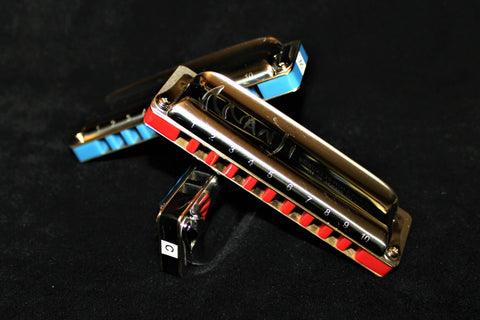 Harmonica Repair & Service
All Built-to-Order Custom Harmonicas offered by Blue Moon Harmonicas come with a One Year Warraty.  If anything goes wrong with your harmonica within 12 months of the date of delivery, we will fix it at no charge to the customer.  
After one year, the charge to service a harmonica is $25.00.  This fee includes the following:
Cleaning
Adjustment
Tuning
Replace any blown out reeds
Recondition or Replace custom comb.  Other than the Aluminum Combs we offer, all our comb materials can be polished or buffed to restore a like new appearance.
Recondition or Replace Covers.  Covers can be buffed and polished to restore a like new appearance, but if they are damaged beyond hope, we will install new covers on your harmonica.
Our goal is to return your harmonica(s) to you looking and playing like new.
---